AHT Amorphous Metal Ribbon FAQs
Safety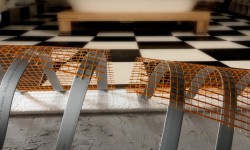 AHT heating mats are designed and manufactured to the highest safety standards.
The heating mats meet class 2 appliance requirements; are constructed with double insulation and have successfully passed the applicable tests of IEC safety standards: IEC 60335-1 (Household and similar electrical appliances – safety, general requirements) and IEC 60335-2-96 (particular requirements for flexible sheet heating elements for room heating).
The heating mats are also certified and listed by Underwriters Laboratories (UL) based on UL 1693 (Electric Radiant Heating) standard, file E349312.
As such the products proudly carry the CE mark, have a CB certification, the Nemko N mark and the UL mark.
AHT products have been tested and proved to have negligible electromagnetic radiation, far below the minimum requirements of the applicable standards.
When installed according to the installation instructions and manual, the products are of the highest quality and perfectly safe.