AHT Amorphous Metal Ribbon FAQs
Products
AHT products cover indoor heating, outdoor de-icing and snow-melting, based on our revolutionary and unique Amorphous Metal Ribbon Heating Technology. Highly efficient heating at low cost, it is a totally safe, environmentally friendly system which is easily installed and maintained.
Indoor Underfloor Heating
AHT's technologically advanced underfloor electrical heating system provides a warm, comfortable, luxurious home environment. For use in every room: bathroom, kitchen, living room, utility room, basement, den, or bedroom, it can be installed under any flooring: tile, stone, wood, laminate or carpet according to our official installation manual.
Advantages of AHT's Amorphous Metal Ribbon Underfloor Heating for All-Around Warmth.
The AHT Underfloor Heating system, based on a unique Amorphous Metal Ribbon heating technology, has significant advantages over any other type of underfloor heating system
Outdoor Heating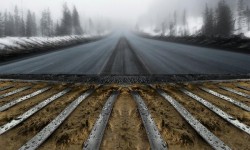 AHT Snow-and-Ice Melting systems are based on our unique amorphous metal heating technology. They have significant advantages over other types of hydronic or electrical cable-based Snow Melting and Ice Prevention systems. AHT currently supplies two families of products:
Outdoor under ground Heating ribbons or Mats normally at 250 – 500 Watts/M2
Pipe and Gutter Freeze Protection/Heat Tracing ribbon
Among the benefits of the AHT Snow Melting and Ice Prevention systems are:
Wider contact area with the cold ground or ice
Reaches the working temperature faster than other systems
Energy saving
Generates more even heat
Less costly
Extremely simple and easy to install
Reliable and durable.
Intended for use under concrete, asphalt, paving stones, gravel and turf (lawns or playing fields).